Having a tough time figuring out what to bring on your next trip? I've created a short list of my absolute favorite travel essentials. These are some of the things I can't travel without. I personally own and have tested all of these items and can vouch for the quality. Hopefully, this list gives you an idea on what I always bring on a trip and inspires you to try them out for yourself!
Disclosure: Some of the links below are affiliate links, meaning, at no additional cost to you, I will earn a small commission if you click through and make a purchase.
1. DSLR Camera
Without a doubt, the one thing I use the most when I'm traveling (besides my phone) is my DSLR camera. I love photographing my travels because it's one of the best ways to document everything I'm seeing. I also really love having high-quality images that I can turn to prints for a scrapbook album or to decorate the walls of my home.
Quality cameras can get very expensive, but a great starter DSLR camera is the Canon EOS Rebel T6i. I purchased this camera about two years ago and have never gone on a trip without it. I personally stand behind the quality and durability of this camera. It's never let me down and it's perfect for beginner photographers.
Canon EOS Rebel T6i SLR Camera 18-55mm f/3.5-5.6 Lens Deluxe Bundle, $699

Canon EOS Rebel T6i Digital SLR with EF-S 18-55mm IS STM Lens, $719.99
2. Vlogging Camera
Staying on the same page of documenting my travels, I've recently started vlogging more which is an amazing way to tell stories and record what you're going through. I love going through my past videos and being able to re-live my experiences.
The Canon PowerShot G7x Mark II is the perfect vlogging camera because it is lightweight and portable. It also has a flip screen so you can see yourself while talking, which is essential for vlogging. It's also pretty great at taking photos, too. I still prefer using my DSLR for photos over this one, but if you have to choose only one, this little camera gets the job done for both. To top things off, it also has a great battery life. I've never had a problem with the battery dying while I was vlogging but it doesn't hurt to bring a spare battery just in case.
Canon PowerShot G7 X Mark II Digital Camera with Essential Accessory Bundle, $519.99

Canon PowerShot G7 X Mark II, $599
3. Fujifilm Instax Camera
At this point, you're all probably tired of me talking about cameras. And you probably think I'm crazy that I travel with three cameras… and you're absolutely right. I've brought my three cameras with me for the past year and I can't say I regret it. I'm a huge fan of the vintage Polaroid look and love being able to hold a physical image that I can take home. Plus, these cameras are the absolute cutest! I take my white one with me everywhere I go and store those images in a photo album. They're a cute retro vibe and make a really great gift, too.
Fujifilm Instax Mini 9, Instax Film, Groovy Case, Accordion Album and Hanging Pegs Set, $89.94
Fujifilm Instax Mini 9 Instant Camera, $49
4. Under Armour Backpack
I swear by this backpack. This bad boy has gone with me through all of my travels for the past two years and it's still in great condition. I even took this backpack through the Amazon rainforest! What I learned was that it's very water-resistant… until it's being drenched by heavy showers. That's the only time it's ever failed me. Other than that, it's super comfortable and has tons of storage space. If you're traveling somewhere for about a week, you should be able to fit all of your belongings in this backpack alone. I mean… if I can fit three cameras, my laptop, a week's worth of clothes, a pair of shoes, and other stupid sh*t in here, then you should be all set with it, too.
Honestly, this is the perfect backpack for traveling. It fits underneath an airplane seat, so it's considered a personal item. This is one of my top budget travel hacks that I recommend to everyone. I can't hype it up enough.
Under Armour Hustle 3.0 Backpack, $39.98
5. Hard-shell Suitcases
Whenever I take longer trips, I always bring my hard-shell suitcases. I've been using these from Dejuno for a couple of years now and they've been amazing. My favorite features about them are the TSA lock and 360-swivel wheels. They're also very lightweight and durable. I definitely recommend the 3-piece set so you can have varying sizes depending on the length of the trip. They're a really great price for the value that you're getting!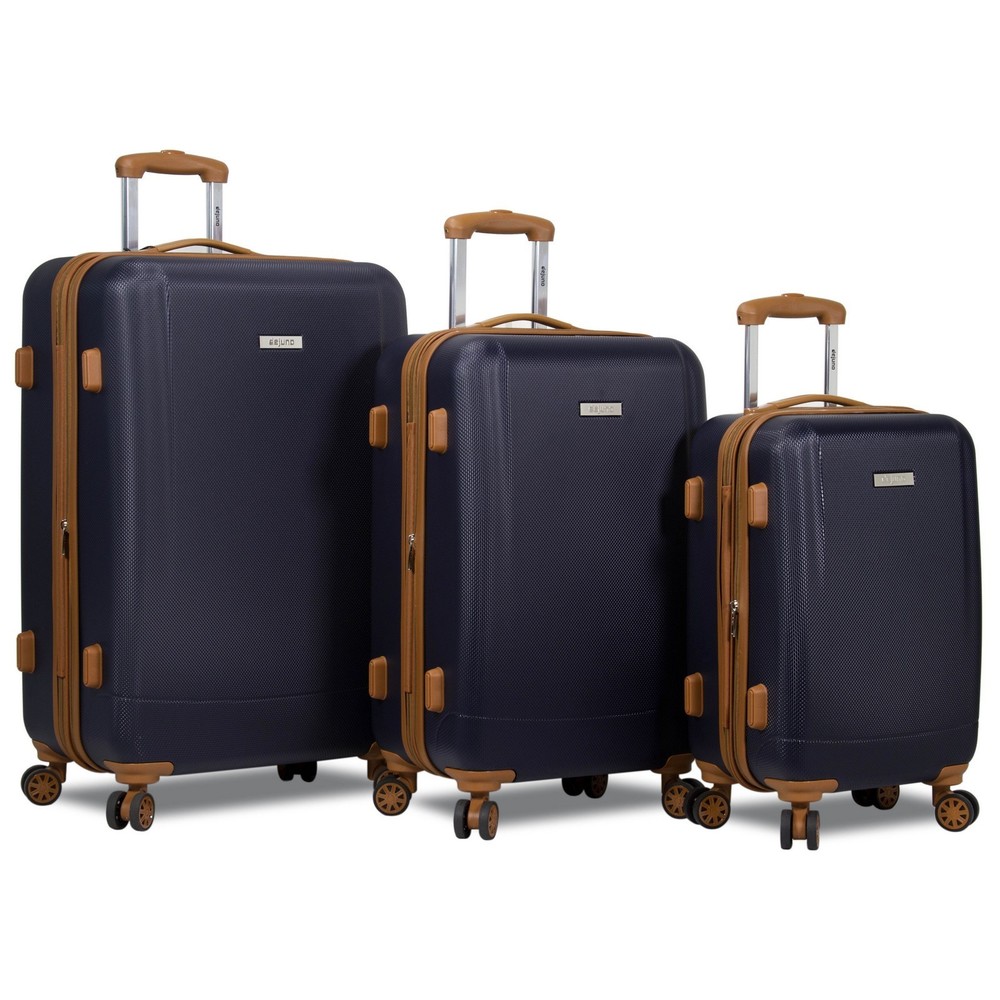 Dejuno Legion 3-pc Hardside Spinner Luggage Set, $164.44
6. Bose Noise-Canceling Headphones
These headphones are the absolute best! They're so good at blocking out noise and make long trips much more enjoyable. I used to only stick to my earbuds, but once I got a taste for these headphones, I couldn't let go of them. I highly recommend these for long flights or train rides because they really do block out all of the people around you and make you feel much more relaxed. I always queue my travel playlist and get settled in for the long haul. These are honestly game changers!
Bose QuietComfort 35 II Wireless Bluetooth Headphones, Noise-Cancelling, $345
7. Portable Power Bank
If you're like me, then you're constantly using your phone whenever you're out. Even if you aren't a heavy phone user, I think it's always a smart idea to have a portable power bank on you just in case. Usually, I don't even end up using the power bank for myself, but let someone else borrow it so they're not left stranded without a phone. I love the Anker power banks because they're small but durable. They're definitely the best portable chargers I've ever used. The one I currently use can charge my phone about 3 or 4 times, which is awesome because I don't like having to recharge my portable charger after every use.
8. Insulated Water Bottle
I'm a huge advocate of reusable water bottles. What I love about this one is that it's double insulated and does a terrific job of keeping your water cold. I noticed that when I filled it with ice water, a full day later there was still ice in it! That's how good it is at keeping your water cold. It even insulates hot liquids for 12 hours, but I haven't tested it for that yet. What's really convenient about this bottle is that it's the perfect size for backpack bottle holders because of its slim design, so it's very travel-friendly.
Avana Ashbury Stainless Steel Double-Wall Insulated Water Bottle, $40
9. Reusable Travel Bottles
I love these little bottles because you can fill them with the full-size products you already have at home and refill them once they run out. They don't have to be only for shampoo, either. You can also fill them up with conditioner, face wash, sunscreen, or lotion. They're the perfect size for travel and reusable, too!
Portable Travel Bottles Set, $8
10. Packing Cubes
Packing storage cubes are the BEST at keeping your luggage organized. I always hated mixing in my dirty clothes with my clean ones, but that's no longer an issue with these packing cubes. You can separate by categories that best suit your needs. I light to keep my shirts in one cube and bottoms in another. I also use them for my shoes just to make sure the interior of my suitcase doesn't get dirty. The best thing about the Eagle Creek packing cubes is that they are machine-washable, which is very convenient for tidying everything up after a trip. I really love these cubes and think everyone who travels frequently should have some!
Eagle Creek Pack-It Specter Full Cube Set, $43.66
---
Hopefully, you got some helpful ideas on what you should pack for your next trip. I'd love to know what your travel essentials are! Please leave a comment down below with some things you can't travel without. I might have to add them to my next list! And thank you so much for reading!